Three years all-remote at GitLab: Know the unknown unknowns (growth, life, and work)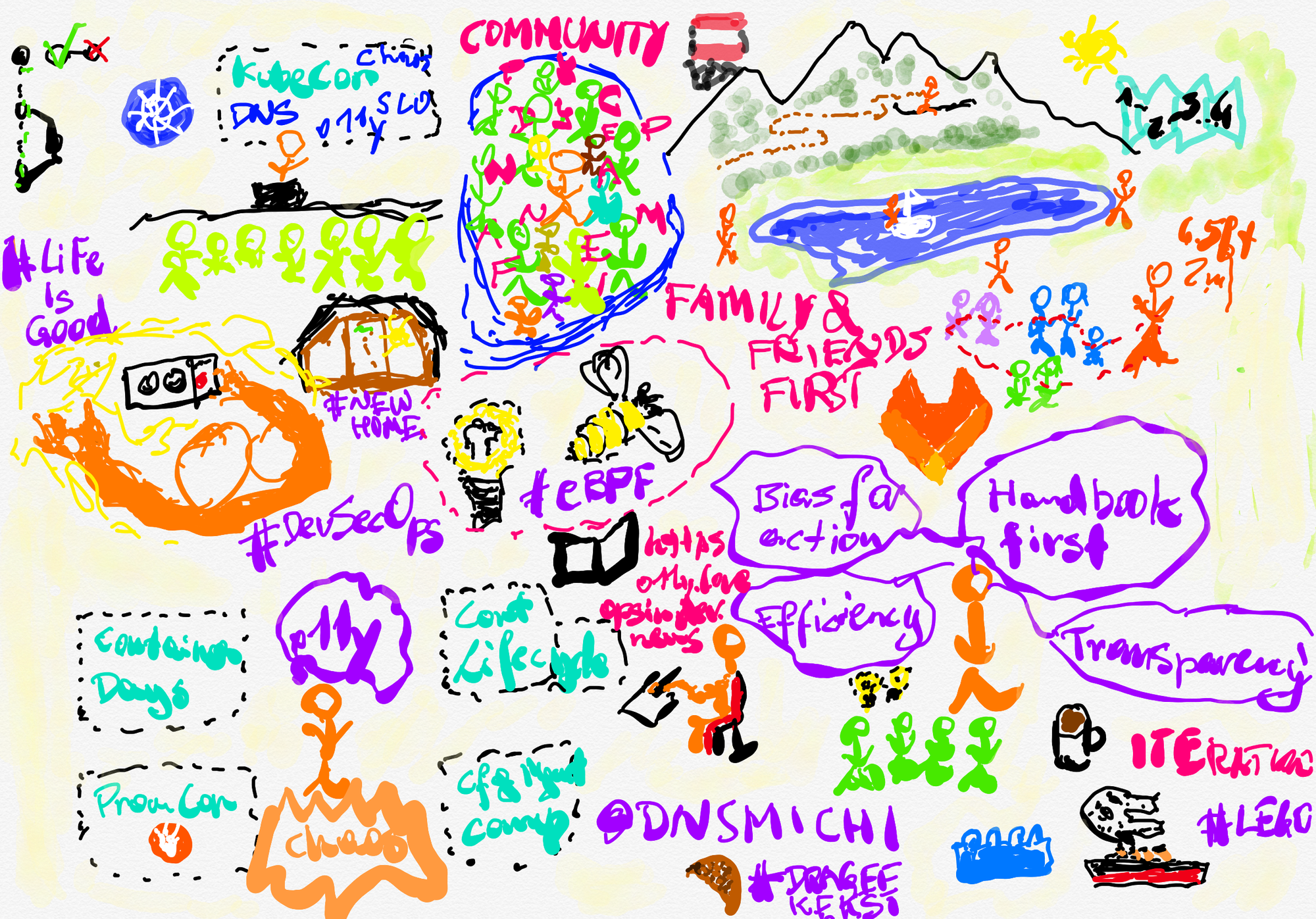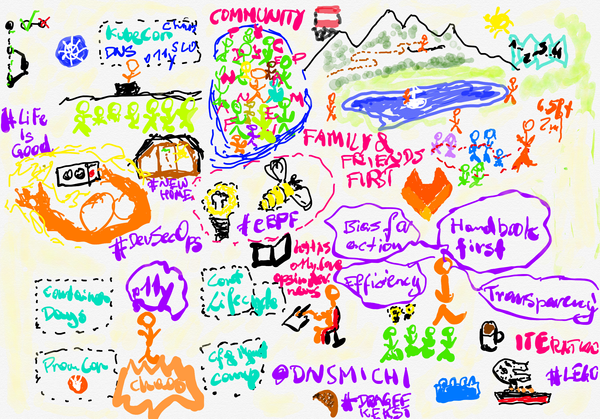 2023-03-02 marks my third year at GitLab. I have been very busy in 2022, did not stop much to reflect on great moments. This blog post is a summary, reflection, and shows my true vulnerable self. It may not be 100% applicable to your career aspirations or path to follow. Though, I think it is important to reflect and let others take part of it in public. Let me know your thoughts and stories :)
Lessons learned
Travel, speaking at events and work tasks require breaks to refresh batteries.
Balancing event speaking and content creation is hard.
Developer Evangelism and DevRel often needs cross-functional leadership. Growing into new roles.
Life throws unexpected unknown unknowns your way.
Refresh batteries more often
In my performance and growth review in early 2023, my manager John highlighted to me that I continue taking paid time off when needed. Especially when pushing forward for results in 4 days, I am taking time off to rest on a Friday, Monday or during the week. This has become a new default, different to my previous jobs, and is more healthy fitting my working style. Sometimes I still violate this rule, and jump on everything important. (reminder to future self reading this blog post)
"Refreshing batteries after events/travel" is something that the GitLab Slack bot for paid time off management get to see regularly. In summer 2022, I took a full week of hiking in the Austrian alps, never been there before and it helped me find my inner self.  The hotel was amazing, long breakfast until lunch time, and 4-5 course dinner. Waking up surrounded by mountains was my "ok, let's book this" moment. And there was so much more to explore, rivers, lakes, trails, unknown paths ...
During the pandemic, I wasn't able to fulfil my travel desires. Or just the wish to spend time in a different country and location where I never had been. With 2022 slowly opening up for events, requiring masks and vaccination, I also was eagerly waiting to explore and meet everyone.
Friendships in the #EveryoneCanContribute cafe with Niclas, Philip, Nico, Michael, and Christian brought us all (almost, Michael was waving from lower Austria) together, somewhere near the Main river in Germany. Lovely summer memory.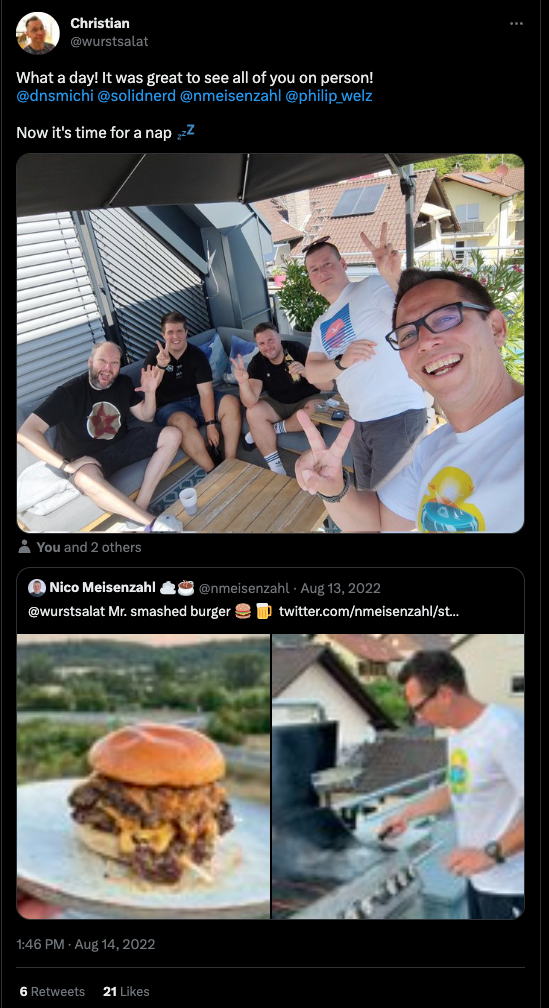 Earlier in April, I finally met Michael in person in Melk, and they surprised me with baked Tanukis 🦊 We repeated the visit during the Xmas holidays, this time in my home town, Linz.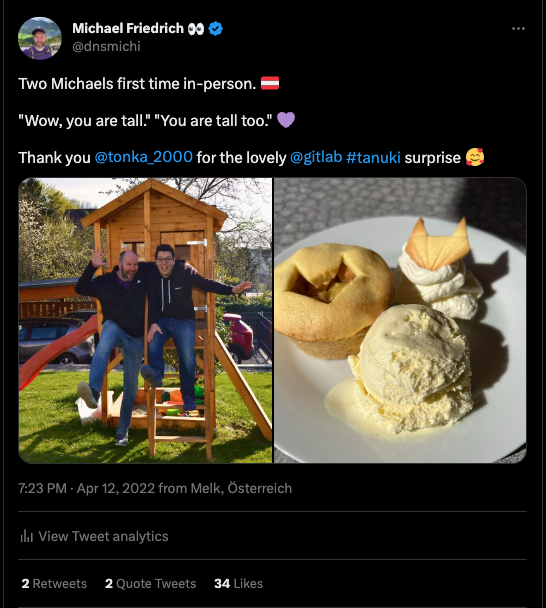 Travelling the world
KubeCon EU in Valencia, Spain. First time meeting team members. First time meeting the community, friends online, friends in real life. Speaking at KubeCon EU, first time. Many great memories, collected in this blog post: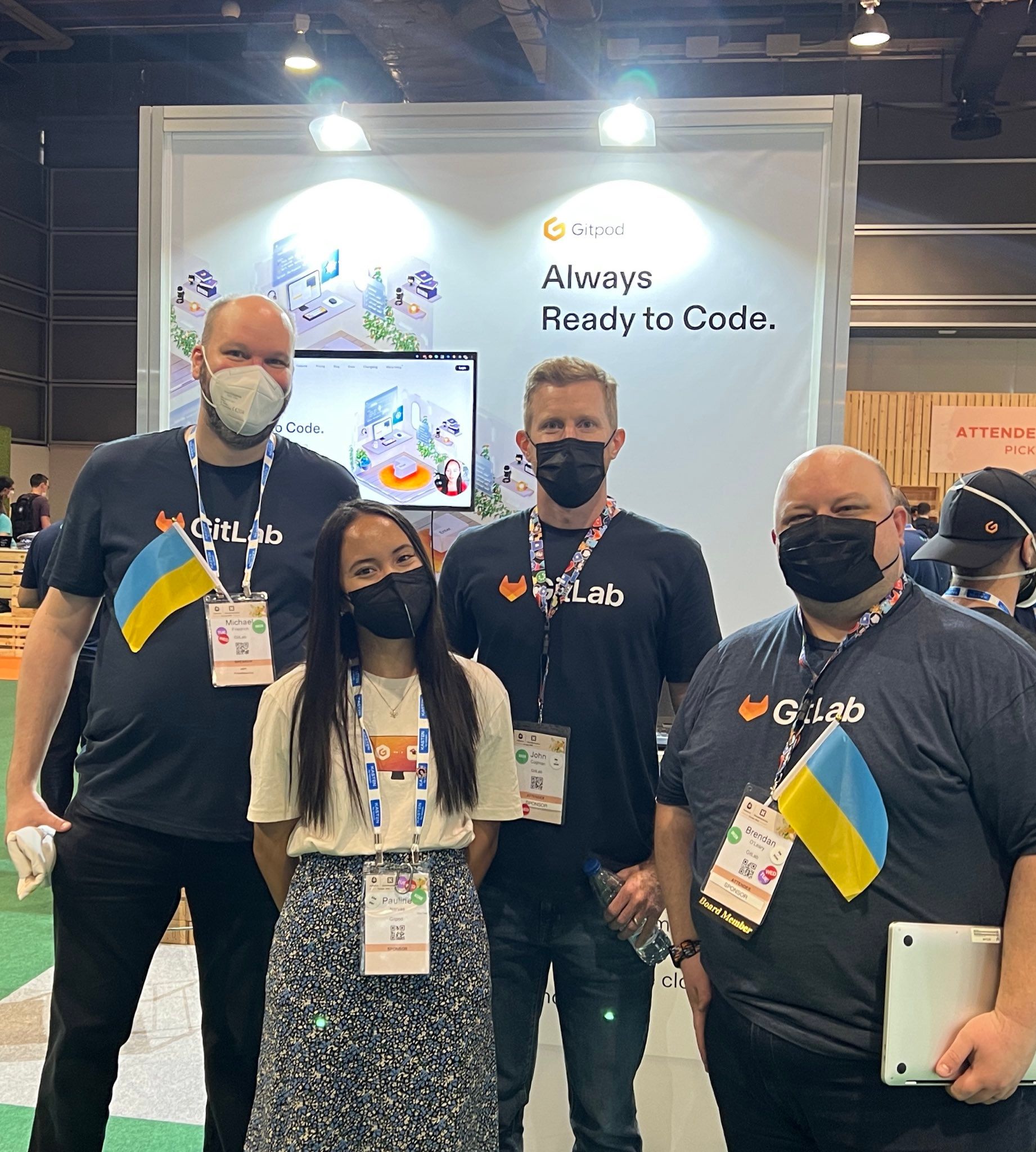 Container Days EU in Hamburg. Meeting Niclas, Nico, Philip again. Kubernetes Community Days Munich were a blast too. Enjoyed my time, and finally met the fine folks from whiteduck - together with Nico.
KubeCon NA in Detroit. Excited to meet Julia, my mentee, and introduce her to the cloud-native community. Got to speak at the Open Observability Day as a zero day event on Monday. Because I feared jet lag, I travelled there early on Saturday, with Sunday to rest. Marino and Julia were so kind to jump on a dinner idea, meeting first time. Lian joined, and we had a great time - and spontaneously continued the next day at Cloud-Native Rejekts. A full day of learning, and a Twitter DM group organizing dinner, which expanded to ~50 people later.
Dinner on the first floor (poor waiter created a receipt for every single one of us), so many friendly faces :-) There I met Fatima for the first time, ~1 year after she joined our Developer Evangelism team 💜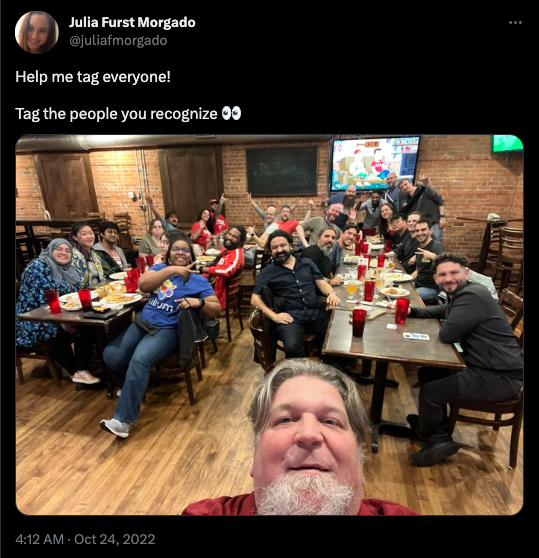 OpenTelemetry Unplugged with great insights and breakout sessions (and more inspiring how complex eBPF is and how much it can help - and becoming a trend in 2023), and the main event at KubeCon NA - I was all around the GitLab Activation Zone, asking friends for selfies and talking a lot. And finally made room to walk around the booths to meet friends from PingCap (Chaos Mesh), Isovalent, Honeycomb, Cloudsmith, Aqua Security, OpenTelemetry, and Gitpod (I actually went there twice, to introduce Julia to Pauline). Michael, Kunal, Carol,  Edidiong ... thanks everyone to stopping by and saying hi. I appreciate you!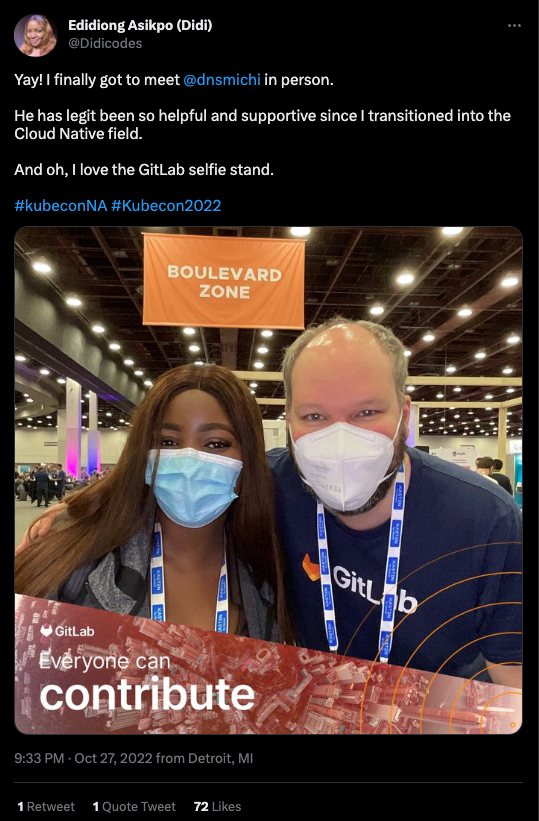 Julia made a great recap video of KubeCon NA, while Marino posted a great thread with selfies.
Not many know this, but Detroit also was my first overseas travel alone. Before joining GitLab, I wasn't that confident with travel. The new job in March 2020 also was a personal experiment for the introvert Michael to get more confident and more extrovert, which finally came to life with a slight delay of 2 years. :-)
Expect the unexpected (know the unknown unknowns)
Actually, I wanted to reflect on KubeCon NA after I landed in Nuremberg on Sunday, 2022-10-30; an overnight flight from Detroit via Frankfurt. So many amazing folks and impressions. I had taken 2 days off to relax from jet lag too.
But you know, life is different. Found a letter in the mail, saying that the flat's house was sold to a new owner. They gave me notice of three months time (Dec 2022 until end of Feb 2023), because they need the flat for themselves. (jet lag wasn't a problem anymore, at least)
In this moment, I had no idea what to do now. My safe place is my family in Austria, whom I called for situation analysis help. Lucky me, ordered all documents for proving that I am worthy to apply for new flats already on Sunday afternoon. (in Germany, applying for a flat is worse than for a job - you need to prove your worthiness, monthly salary income, and provide insights into your personal life. Print it out and bring it to the flat visits in person already)
The luckiest me spotted a flat on Monday, large and just 1 mile away from the old flat. Shared the URL with my friends, and they were like - our parents know the owner, they are calling them now. Oh, and now you can call them. In between, I explained the situation to my team at GitLab and told them that the next weeks will need my private attention, less work focus. Everyone was very supportive and helpful.
Long story short, on Sunday, I got kicked out of a flat. On Monday, I found a better flat, on Tuesday, I called them to visit, on Wednesday, after the visit, we made a handshake deal for the flat (because everyone knows each other) - on Thursday, I signed the new flat contract. And because the flat was empty and the house owners are true angels, they handed over the keys early on Saturday.
That's one week in my life I will never forget.
PS: The moving company had a slot early December to move the heavy furniture into my new flat. Because everyone knows each other here in the Nuremberg area. It also answers my question where I belong - Nuremberg stays my home base for all-remote work.  
Life is hard but together it is easier
I still had speaking at events planned at that time. My team and leadership was the most supportive of any decision I made. Family and friends first, work second isn't just a saying. In this situation (that lasted from beginning of Nov until end of February), I got incredible support and check-ins of how things are going.
I decided to move on with PromCon EU in Munich, and Continuous Lifecycle, in Mannheim, Germany - because travel time was ok. There I met Andrew and Bob from the GitLab infrastructure team in Munich for the first time, and Nico and Philip in Mannheim again. And my DevRel inspiration friend Philipp :-) I also made sure to bring Austrian butter cookies (#drageekeksi), travelling the world with me.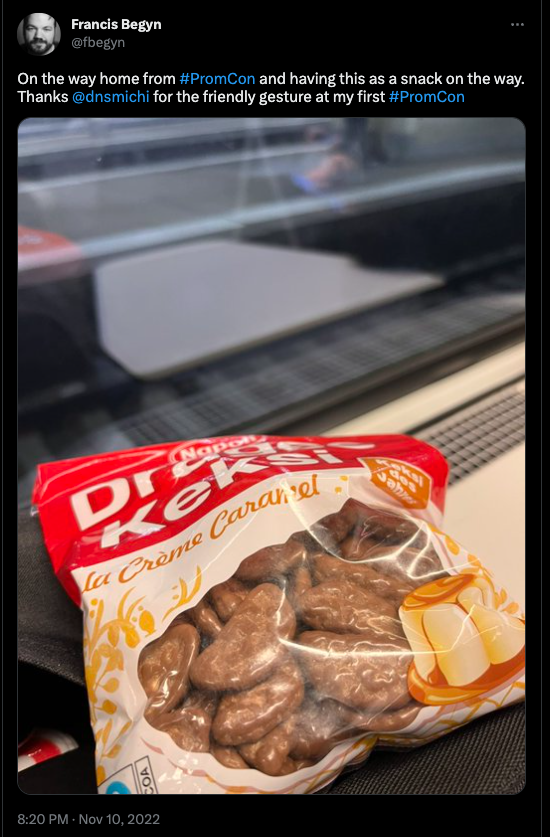 AWS re:invent needed to wait another year, and meeting some team members got delayed once more. Albeit I was missing out, I could already do the move from all the things into the new flat. On the same weekend I would have returned from an overseas flight. (in this case I was more lucky compared to the flight returning from Detroit ;-)).
My best friends Markus and Nicole helped with flat planning, especially the kitchen with IKEA needed some extra syncs, and the final order delivery and build-up to be scheduled in early January 2023. I did not have much vacation except for one week Xmas holidays in Austria - and to be fair, I wasn't able to fully unplug from private organisation stress. That is something I need to fix in March (in between events), April (KubeCon EU), and May (yes, nothing thus far).
After I was able to return the old flat mid February, and ordered new furniture for the new flat - I am slowly settling into my new life. The new flat is 20+ m2 larger, and has a remote office room that is three times the old one. I still need to put all the LEGO models in my Zoom background, and unpack a few things, and take pictures for my all-remote workspace page. And tease y'all with the new LEGO Titanic. But that's not that hard anymore :-)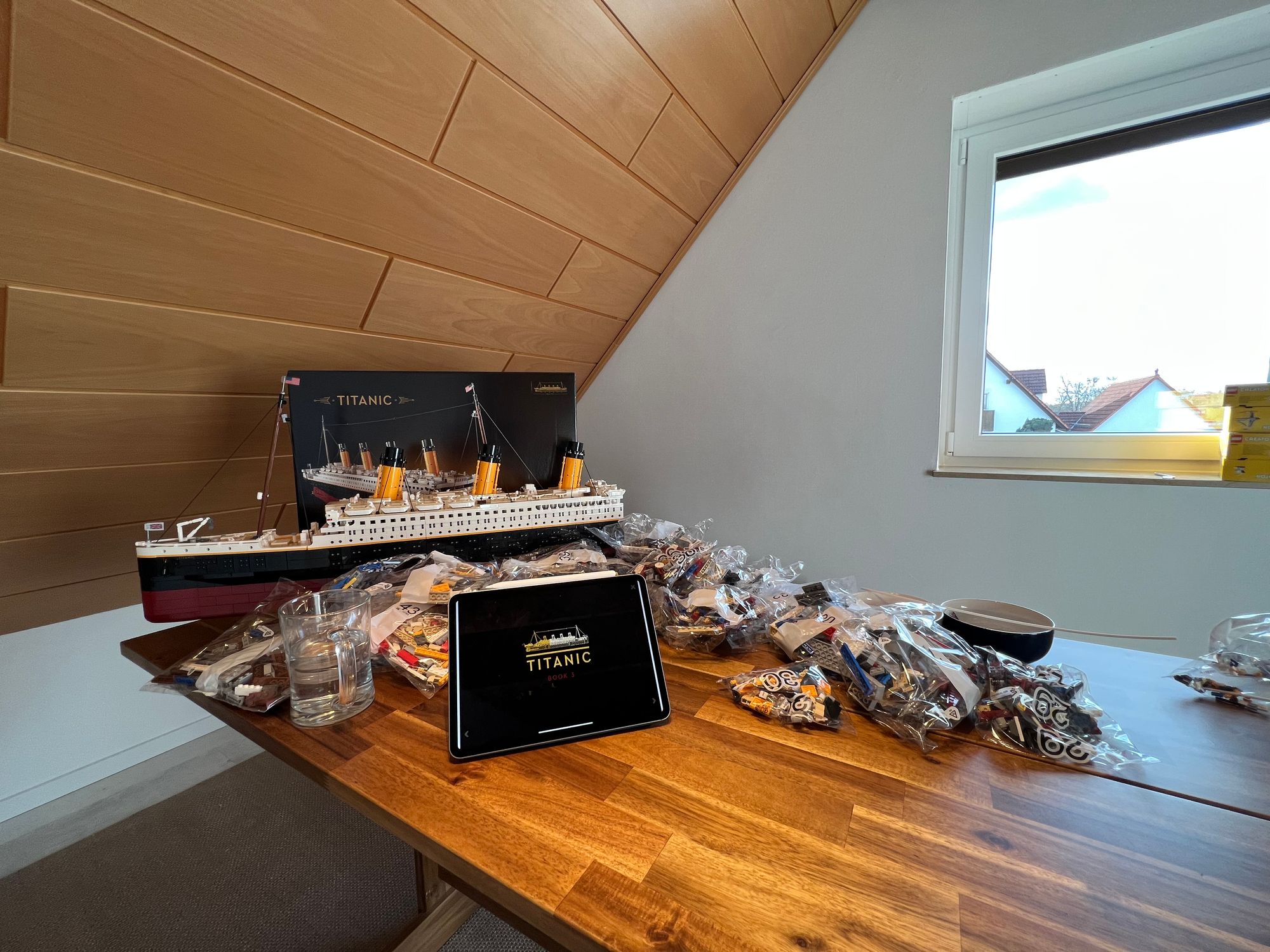 Meeting friends, and personal growth
In early February, there was FOSDEM, Config Management Camp, GitLab Contributor Days - I made the decision to join the GitLab hosted event, and spend 5 days in Brussels and Ghent in Belgium with a friend. First time meeting Abubakar after ~3 years. 💜 And Timo, Lee, Raimund and more team members :-)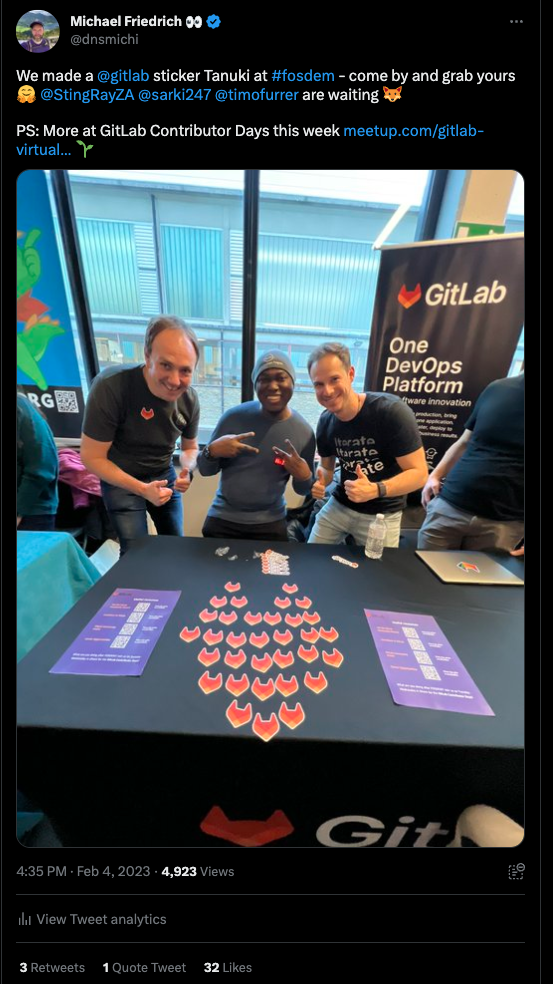 Lovely to meet Kris, Julien, Nicholas, Matthias, Kemal, David and so many more awesome community members. Aurélie and Horacio were so kind to teach me drawing sketches on my new iPad Pro - which you see reflected in the header image, me iterating.
Ghent is also a location near and dear to my heart. In 2019, the 10 years DevOpsDays celebration event in Ghent was an inspiration to join events and dive into DevRel. A few weeks later, I applied for the Developer Evangelist role at GitLab, and started on 2020-03-02.
One moment at Config Management Camp in Ghent helped me reflect how much I have changed in the past 3 years. I was standing in the event location with an old friend, chatting about work and life, in English. An ex-colleague joined with someone else, switching the language to German immediately. My conversation partner said "I understand German, it is okay". It did not feel inclusive to me, I continued our conversation in English, always opening up the circle - to give folks explicit permission to join, and use English as a common language.
The one ex-colleague looked at me and jokingly said "Michael needs to continue speaking English, he is important now. (haha)" I looked them in the eyes, wasn't sure what to respond. They said something related to my past, when I was snarky and sarcastic, along the lines of "Now Michael is thinking about a snarky response".  I decided to ignore them, and continued talking to my conversation partner, enjoying their personal success story. (we had not seen each other in 7+ years, and it felt my heart with joy).
Reflecting on that situation, I have changed from the sarcastic and snarky Michael to the Michael that assumes positive intent, and embraces diversity and inclusion. This personal experience is the result of a great community, influencing and guiding my growth here.
I had the joy meeting many friends in 2022, and always felt invited to join the circle to meet new folks. As do I - opening the circle for everyone.
Growth and personal conflict on career path
When I returned from a refreshing offline summer vacation in mid August, there were a couple of incidents. With the calming hiking pictures still in my mind, I jumped into them and became a regular contributor to cross-functional initiatives. This responsibility requires me provide regular updates and collaborate with different functions and departments, and helps me find my career path.
While I love engaging with the wider community, speaking at events, creating content, I am also a manager and leader (inspired the thought leadership strategy, for example). 2022 clearly showed this conflict, and since then I am investing time into better career development. Taking courses, and practicing - contributing to team member's success for example. Analyzing situations and finding ways to enable them to be the directly responsible individual (DRI), while I contribute to the tasks being done. Giving feedback and advocating for the best path forward.
I also learned that stepping up as a leader happens naturally. For example, the marketing organization was restructured in 2022, with Ashley Kramer becoming GitLab's Chief Marketing & Strategy Officer, and the marketing handbook structure needing updates. Not only content updates but moving lots of directories and renaming relative URLs. Tasks that I can do more efficiently using CLI magic with find/sed/grep, and removing long standing work items from everyone else's to-do lists.
The tasks have grown, and so have I, collaborating with leadership teams to get handbook updates reviewed and merged. Earning trust feels great, and I feel even better because I truly enjoy this work, helping our teams. Handbook first - also with editing. A coffee chat about using the new Web IDE turned into a video recording that enables everyone to learn and practice.
I still don't know exactly where 2023 will bring me and my career. Reflecting about my achievements and growth in 2022 helps. My current goal is becoming a Staff Developer Evangelist. This includes working on our thought leadership strategy, contributing to other team member's success and collaborating cross-functional with leadership.
And never getting tired of what I do - I still feel like I am getting started.
Diversity through mentoring and coaching
My career in software development is 20 years long, and I have seen different programming languages, team workflows, and good or bad management decisions. The Developer Evangelism team at GitLab also needed to find its path from its inception in Feb 2020. We also offer coaching and reviews for talks, which led me to the idea of doing mentoring and coaching.
I enjoy the monthly coffee chats, and asynchronous tips, feedback, encouragement, and much more. Building trust to be successful together. Seeing friends flourish in their success makes me happy, too. From her first keynote at All Day DevOps, to speaking at Civo Navigate about "Is Kubernetes too Complicated?" to landing her first job as a Global Technologist at a cloud-native company - Julia has been an inspiration in 2022. And this wasn't just me with mentoring - everyone who welcomed, and helped Julia grow, is part of her success story.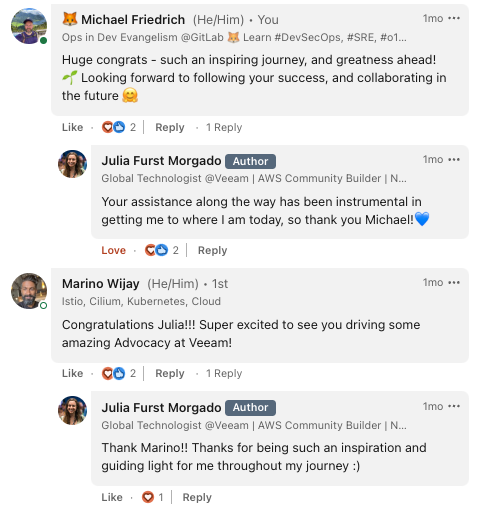 I'm also engaging with more mentees, who shine a light and have grown a lot since we started.
This also is a reminder for everyone how we can create more diverse and inclusive communities. By helping future talents with career development, and finding ways to help underrepresented groups shine their path. And maybe enabling future speakers who find confidence telling their unique stories.
A loud reminder was the shitstorm at Kubernetes Community Days Berlin in June with an all-white-male speaker's lineup. Albeit I disagree on taking action with personal attacks on social media (most shittiest weekend ever), the situation made it clear that we need to do something about diversity at events. It is the responsibility of the event organizers, and attendees and speakers to work together. Be it speaker coaching, sourcing, or just the general awareness.
GitLab changed the event requirements for speakers from GitLab, and requires at least two speakers from underrepresented groups. We established this policy after the events around KCD Berlin. At Continuous Lifecycle, I had great conversations with the organizers, and also offered to help with future CFPs and speaker enablement. Awareness is increasing, and it only is the first step.
Good decisions in 2022 to continue in 2023
My opsindev.news newsletter has grown to 250+ subscribers in one year, without much marketing. The monthly releases turned from a link collection into curated thoughts on the latest technology trends, insights into learning experiences, and helpful tips. I also started listing CFPs and events, and was amazed by great feedback at FOSDEM :-)
Meanwhile, the newsletter turned into an online handbook with a search form. Conversations with product managers about product strategy ideas lead me to linking the newsletter resources. A lunch chat with a friend about Kubernetes led me to sharing a new helpful tool that I discovered and discussed in the newsletter.
o11y.love as a learning knowledge base also has become the single source of truth for any Observability related URLs and insights. Every time someone needs the context of eBPF, I'll link to the relevant topic. It's easier than to repeat myself too often. Explaining eBPF happens in my talks, and the conversations before and after the talk. I am still not a 100% confident – we will get there.
In September, Saiyam pitched the idea to repurpose a Kubernetes Observability workshop into a livestream of 1.5 hours. I truly enjoyed building the exercises and so it became a 3.5 hours workshop, free for everyone to learn and benefit. The success proves the right decision - great visibility with 35,000 views.
All these different topics are tied to my work at GitLab, DevSecOps and the product somehow. Writing about them helps me reflect, and correlate the needs and trends. For example, I was loosely following the AI Assisted workflows in 2022, and found this to be important in 2023. (boom, social media is full in 2023 prediction posts). Another example is the Sec in DevSecOps, tied to Security Observability and more (cloud-native) cost efficiency.
TL;DR - technology never gets boring. We just need to make sure to focus. 2023 will be more focussed on helpful blog posts, and selected events to speak at.  
Focus - or how to delete things that are not important/urgent
I learned to better handle requests. I know, and could do, too many things, and respond to all requests. My manager John shared the Eisenhower Matrix with me, and since then I have it printed out on paper on my desk. It reminds me about important/urgent tasks to do, scheduling not urgent tasks for later. Not important tasks that are urgent can be deleted. And not important and not urgent tasks will be deleted.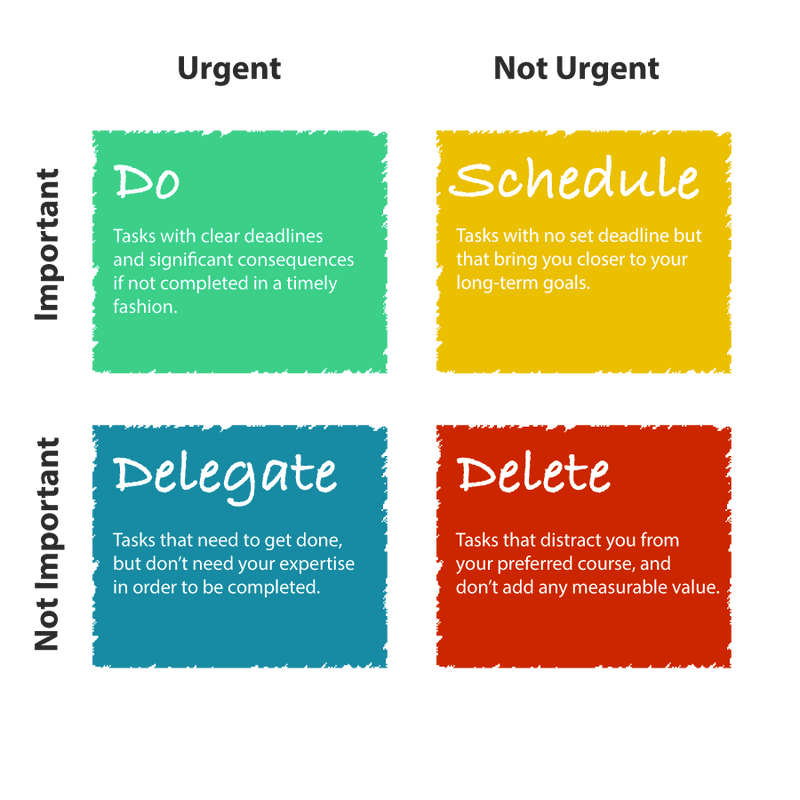 One could argue that this is too generic. Or that I would loose opportunities. That's fair and true. On the other hand, it is my time and I carefully need to balance work and life. Burnout is still a thing, and it does not matter the work hours - balancing 10 urgent tasks in 30 hours can burn me out as well.
We've been iterating on the Developer Evangelism strategy and KPIs, and it keeps me thinking on new requests - "How does this task help our community?". It also helps with focus when the team organisation structure changes, and new tasks need to be prioritized.
After all, "focus" also means to unplug from work, and uninstall Twitter, LinkedIn, Slack from mobile. I did this during the summer holidays, and only allowed myself to post stories on Instagram. This has been so refreshing, highly recommended for everyone.
More thoughts?
Albeit there were, are and will be rough times at work and in my personal life, I'm grateful for my adventure. Work is "just work", I am passionate about GitLab, but it does not define my true authentic self. This personal authentic self is what I can bring daily to work, it makes me smile and enjoy my dream job. I love my team at GitLab, amazing humans. 💜
I learned to unplug on the weekend, not opening social media. Ignoring questions about work until I work again. Spending time with friends while travelling, and getting to know each other. Appreciating the small moments together, because life is too short. Looking forward to summer and warmer days, spending more time outside in the Nuremberg countryside ... or wherever it may take me :-)
I often find myself inspired by my friend Pauline exploring Greece, working remotely, and am still considering the same adventure. Who knows ...
Goals for 2023
Thanks for reading this far :-)  I hope that our paths cross in 2023 in person – just look for 6.5ft/2m with a GitLab shirt/hoodie, and say hi.
Some things in life you cannot plan. So treat these goals as stretch goals, as we explore 2023 together:
Stay healthy with focus, and refresh batteries often. Vacation somewhere hiking in nature, or at a beach island.
Figure out which LEGO model I will be building next, and share in the #lego Slack channel and social media. (Rivendell 10316, Lion Knights Castle 10305)
Focus more on local meetups and events (Germany, DACH, EMEA) and travel the world to meet everyone.
Be a mentor, coach, educator and leader for everyone at GitLab and the wider community.
... and bias for action to help each other :-)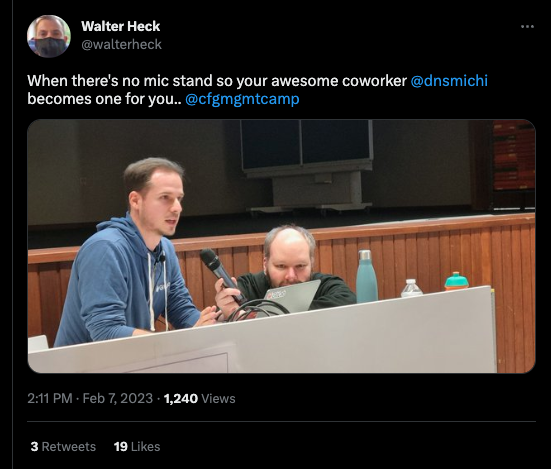 PS: My friend Brendan moved to new adventures at ProjectDiscovery.io. The DevOps Twins will live on ... thanks Michael, Fatima and Pauline 🙃