All-remote workspace iteration: New audio setup for streaming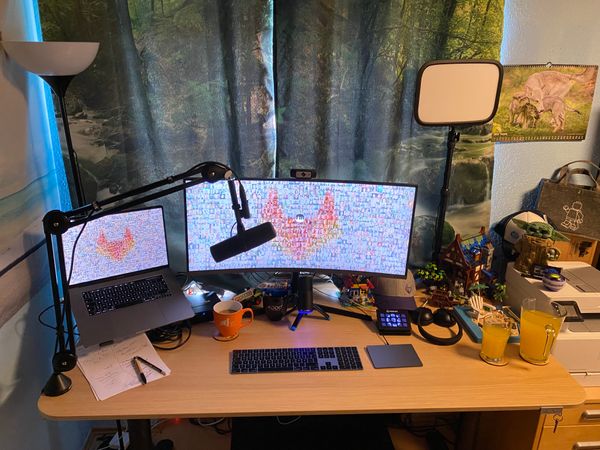 Good audio with a crisp sound makes recorded talks, workshops and live streams a joy to listen.
I recently recorded a talk for DockerCon, and was not amazed by the sound quality of the Bose NC 700 bluetooth headset. I got a nice speakers gift from AllDayDevOps - the JLAB Talk Go USB microphone. After recording a podcast with Sujeevan and Dirk, and learning how good they sounded, I finally reviewed potential microphone capabilities. To be honest, I always hesitated - mostly for the reason that I am not an audio professional, and I feared buying incompatible items. It is not just one package but a multitude of assets to combine.
First and foremost - this equipment is expensive, and helps my work as Developer Evangelist who hosts a weekly stream called #EveryoneCanContribute cafe, regularly joins virtual meetups and events and provides quality recordings in an all-remote setting. I'm following the principle to buy good and quality hardware, avoiding problems or short-comings. I am also doing lots of research before convincing myself to buy. When reading through the components, there are less expensive alternatives - I am following recommendations from friend's blog posts and videos I watched.
Microphone
The Shure SM7B is an all-star recommendation in many blog posts for streaming and home recording. Albeit quite expensive, the reviews are marvellous.
Studio Recording, Home Recording, Podcasting & Streaming. The SM7B Is Trusted By The Worlds Leading Vocalists, Podcasters & Streamers.
The video below also recommends the Shure A26X 3" extension tube, which extends the the microphone by 10cm and gives it more a little more space to move around. Totally worth the money, especially with the huge LXR cable plug.
Microphone arm, cables and audio interface
There are many microphone arms around - I went with the less expensive recommendation from Brendan: the Røde PSA1 articulated arm stand.
For the XLR cable, I decided to go with Amazon's recommendation of the Ugreen Microphone Cable High Quality XLR Male to XLR Female Black.
For the audio interface, I was looking for an USB-C powered recommendation, consuming the LXR cable and converting to digital audio. Not being an expert here, I started my research from Emma's post finding the PreSonus Studio 24c USB C Audio Interface. It allows to use two devices (microphones) and directly connects to USB-C without any extra power connection. The reviews on Amazon are great, and I do not really care about the software bundle - it worked OOTB. The price is above a Behringer device; in this situation I opted to avoid "Buy cheap, buy often".
Microphone booster
The audio gain might be too low, and the audio interface needs to be turned quite loud. While studying the Shure SM7B Amazon site, the Cloudlifter was recommended and got me curious. After some research, I found the video below which convinced me to invest into 25dB more again.
Note that you'll need a 2nd piece of the Ugreen Microphone Cable High Quality XLR Male to XLR Female Black.
Once assembled, the Shure SM7B on the microphone arm connects to the Cloudfilter which connects to the PreSonus audio interface which is connected via USB-C to my Macbook.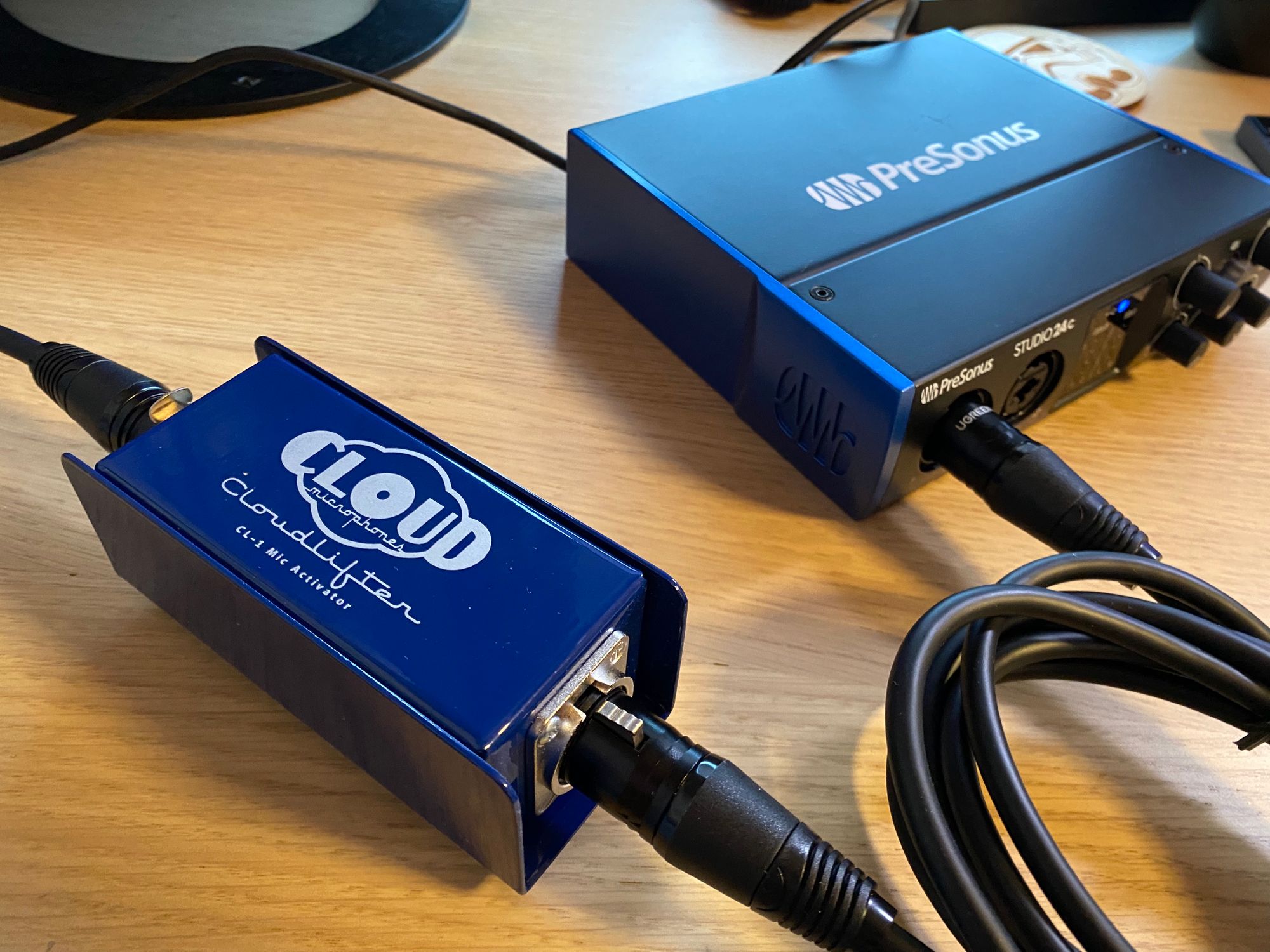 Summary
My full setup is described in the all-remote workspace.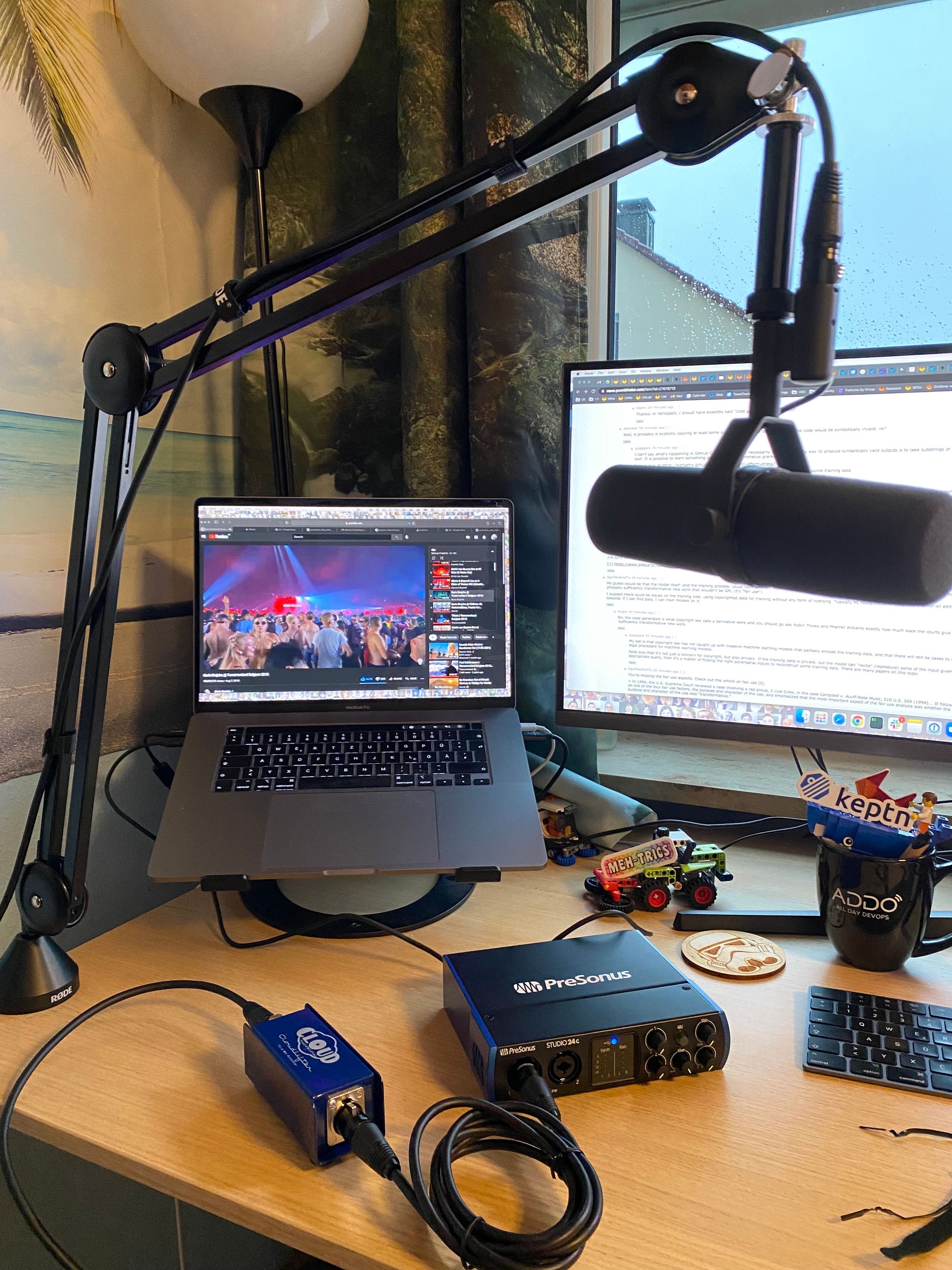 Results
It is has been put into production already :-)