First time all remote: Expect the unexpected
First time #allremote for everyone My dear friends Markus and Nicole were exercising a new situation on the weekend - they have been preparing to work from home.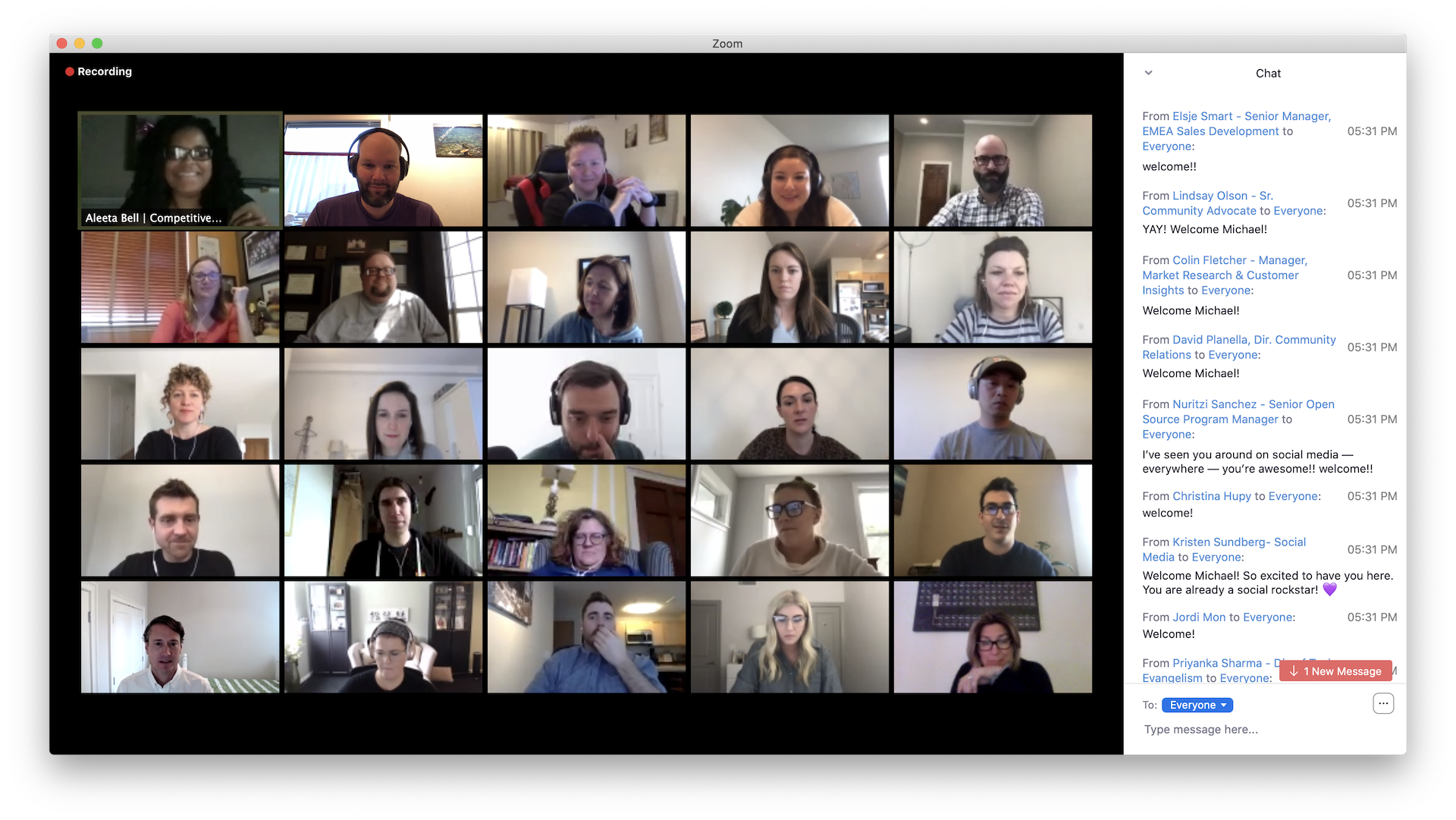 After an exciting first week at GitLab, things have been moving fast. In the light of Covid-19, every day brought a new situation to get familiar with. I consider myself lucky to be #allremote but how does everyone else deal with it?
Many questions floating around in my head. When Austria closed its borders and told everyone to stay home, I knew that this will happen in Germany soon enough (yesterday). How is my family in Linz, Austria doing? I called them, and next to hearing they are doing good, we also talked about vacations to cancel and that we don't see each other for weeks or months. This hurts but we all know we need to care about the greater good - stay home and avoid social contacts. Stop the spread.
First time #allremote for everyone
My dear friends Markus and Nicole were exercising a new situation on the weekend - they have been preparing to work from home. On Saturday evening, I saw an invitation from Zoom popping up.
Last week I told you - I won't touch my work Macbook on the weekend, and I was eager to not do that. So I was looking into my iPhone, installing Zoom. Hm, how do I log into my GitLab account now. Ah yes, we use Okta as SSO, maybe I just try 'gitlab.zoom.us' and see what's happening.
Voilà, after dancing between 1Password master password and Okta 2FA, I was able to log into Zoom on iOS. There I saw an invitation from Markus, he somehow managed to guess my work's email address. Later he told me that they've found my Calendly but there was no free slot on the weekend ;)
Ironically we are living 1000m away from each other, still avoiding socialising. Nicole joined the Zoom meeting and so we shared our stories from last week and the things going on now.
This works very well on the iPhone, and I also learned that every time I switch to Twitter, my video is switched off. I now know how other GitLab team members use this to join meetings while being on the move ;-) Always wondered why people have their video turned off, now that makes total sense.
Saturday evening on the couch, what would fit better than sharing this story on Twitter and see what happens. Oh, an invitation for gaming. Let's just share a Zoom URL and see what happens. And so finally met Ilu, and their lovely cat. At first the camera was not that interesting, but with some angles and movement, we made it the perfect spot. What do you think? ;-)
How was your last week?
My onboarding issue wasn't finished in my first week obviously. I'm a friend of short iterations, everything which blocks my current work is being moved to a later slot. GitLab provides a good and intuitive anti-sexual harassment training. I clearly wanted to take the time to listen, practice and learn.
The same applies to the certifications for culture and communication. This adds some gamification where I wanted to take the time to read and understand everything. This is basically what I was doing on Monday and Tuesday, next to other organisation things like expensing additional hardware I had bought earlier - spending company money as it would be my own really is a great thought.  
In our weekly TE (technical evangelism) collaboration session on Tuesday, we have been refining our plans and our message. This defines our strategy for 2020 and requires approval from our leads. Which is why everyone is working hard to finishing on time (no extra hours though, that's good).
Since we now have our TE issue board, we have started to organise issues and labels. At first glance, I wasn't sure about creating an issue for every idea floating in my head - issues create extra work on review. I learned that this is totally fine and we will triage together in our collab sessions then.
Here's a few highlights from last week:
The best thing is that this is fully transparent, you can follow our work and even comment and discuss, like Julien did with Prometheus packages - thank you!
Work late, start late - a balance
Nicolas was so kind to point me to the fact that working late could be a problem. And I have to admit, while responding to his comment on Tuesday evening, I came out of a 10 hours day. Why? Just because I started work at ~10am with a lunch break, and later some meetings. At 8pm, a brain storming for a virtual Cloud Native/KubeCon event happened with quite a few people joining, I wanted to be part of this great initiative.
As promised, on Wednesday I therefore started later than usual. I made the move to go shopping (a bit more since food was really running out) and then helped my neighbour replace his couch. This really turned into a good feeling with shifting work hours as needed. I am personally a little over-organised with strict 8 hours a day, I am slowly learning new ways and feel way more refreshed when "going to work".
Be part of a great team
I've met with Melissa on Wednesday for a coffee chat. Aside from getting to hear her story, she was so kind to share the early days at CoreOS and the path of Kelsey becoming in inspiration in our tech community. I truly want to follow, help everyone out there and inspire others to do the same.
On Thursday, our Marketing meeting happened and I was invited to introduce myself. Next to my story and the fact that I love building LEGO models, I learned that Priyanka recommended my blog post to everyone ❤️
Later on, when Melissa and Priyanka were reviewing our TE plans (I guess), they shared https://www.everyonecancontribute.com/ with our team ❤️

I have made plans in the moment I had applied for the role in late November 2019. My main "struggle" is to formulate all my ideas into tasks now, there are so many of them ;-)
Coffee Chats - Social get-together
Lindsay was first to schedule a coffee chat with me, before we'd only had private conversation on making the GitLab Discourse forum a great place to our community. Aside from sharing ideas and our stories, we also came to the conclusion that it is a good thing everyone taking care of their responsibilities. I will be back on the forums when my onboarding tasks and TE plans are finished, a clear focus is now required.
I also watched a coffee chat between Greg and Sid, with many great ideas on support and community work.
Following up on this, I finally met with Greg on Friday in our coffee chat. 25 minutes wasn't enough, and since it was 6pm and I had nothing planned for the evening, we just kept talking. About open source communities, how we see the influence from Microsoft on GitHub, and at last, I had shared some ideas on making the support life easier with a data collection tool, inspired by Thomas from my former work place.
If you are now a first timer with remote work - schedule coffee chats with your co-workers and friends. Suggest this to your team leads, encourage everyone to have a short coffee break remote!
Things I love: Monitoring/Observability
On Wednesday, I had an extended coffee chat with Ben Kochie from our infrastructure team. He also is a Prometheus and CoreDNS maintainer, great open source projects where I aim to contribute to in the future. He has shared so many valuable insights into Prometheus, ideas to contribute and a deep dive into GitLab's infrastructure, I'm incredibly grateful for being so kind and share all of his expertise.
One of my responsibilities will be channeling feedback to the product managers, specifically our Ops team on the Monitor, Health and APM side. I've met Kevin in a coffee chat and learned about his past and new adventure here with us. I'll be following up with Dov soon, all things Prometheus and Tracing, and Sarah on the health team. I can literally feel that my knowledge and expertise is coming to play, and we can greatly achieve things together.
With the observability suite moving to the core product in 2020, we sure will need a steady feedback loop and listen to our lovely community and customers. I have some crazy ideas too, some of them are documented in my TE plans already.
While writing these lines, I am listening to my favourite EDM playlists with my noise-cancelling headphones. I am thinking about my vision and the many colleagues and my team. It still feels like a huge adventure we master together.
Community work is just awesome
There's no best practice guide when working with people, when creating a friendly and welcoming atmosphere, when building new initiatives to motivate everyone. I've learned many things over the past years, and I am really happy that Lindsay and Greg have encouraged me to start a new issue before I even joined GitLab.
On Thursday, I joined the publicly streamed community relations group conversation to learn more. I'm planning to do this with other group chats as well, since they offer a self-learning and getting-to-know people experience. Or I'll watch the recorded streams at GitLab Unfiltered. This channel is incredibly helpful to learn about the people, culture and visions at GitLab - tip for anyone applying for a job ;-)
Everything starts with a Merge Request
I have finally found the "tools and tips" section in the handbook. As you might know, I document and write everything down. I used to do that in blog posts, these tips are a living document though. In my previous workplace I used a wiki page, but this wasn't public so I couldn't share it with you ;-/ My Macbook setup already is bootstrapped in a Git repository. I've started from scratch with macOS Catalina and the new ZSH default. You can follow here while I continue, a separate blog post will come soon.
With contributing my tips to our handbook at GitLab, this certainly helps everyone, public by default.
Together we are strong
It is not that we know everything about remote work at GitLab. Our culture and values are a perfect fit for #allremote, how could others benefit in their unexpected situation? The perfect guide for your work and home place doesn't exist - neither do I know everything after two weeks.
I still don't have a standing desk, or a bigger monitor. On the weekend I took care of my beloved ones, re-organised my mobile phone contract, and started to plan a little more for isolation coming in fast. My main priority right now is - people around me are feeling well, my friends learn how remote calls work, we keep organising community meetups online, learning my role at work and last, get some food from the supermarket when necessary.
Nicolas has some great guidance, especially with planning the day for first time #allremote:
Darren adds some interesting points in discovering new opportunities from this situation.
Philipp made a good point: "for us", in our culture, things may work.
Darren and Sid joined for an #allremote session last week which I personally found interesting in the way that I did not read every page in the handbook yet. And I think it is fantastic when people just discuss and talk, I admire these panels and sessions.
Families and friends must stand together. Take all your children to our meeting calls, we all love them and together we master every challenge!
Calm down and chill
In the light of staying home, people started sharing nice impressions, with pets and family and friends.
Free your mind
As promised, I started reading "The Physician". Jason and Kevin were so kind to share their good reads, and I have to admit, seeing sci-fi made me think of Perry Rhodan again. I had been reading this (German based) series since the 1960's for years, right now there is a new cycle being started with number 1201. The current release is somewhere over 3000 though ... I might have the time to catch up and also skip some boring chapters. Which are honestly holding me off to continue to follow the great story.
One problem as a digital tech person - reading on an iPad is somewhat distracting, a Tweet there, a YouTube video on the other side. Therefore I started to buy paperback again and reading it offline. Promise, I steadily monitor my remote work and dedication to tech devices to stay healthy!
Thanks for reading, I'll come back next week with more stories from GitLab and my experience when everyone shares their #allremote experience :-)